Tom Wesselmann: Still Lifes, Seascapes + Nudes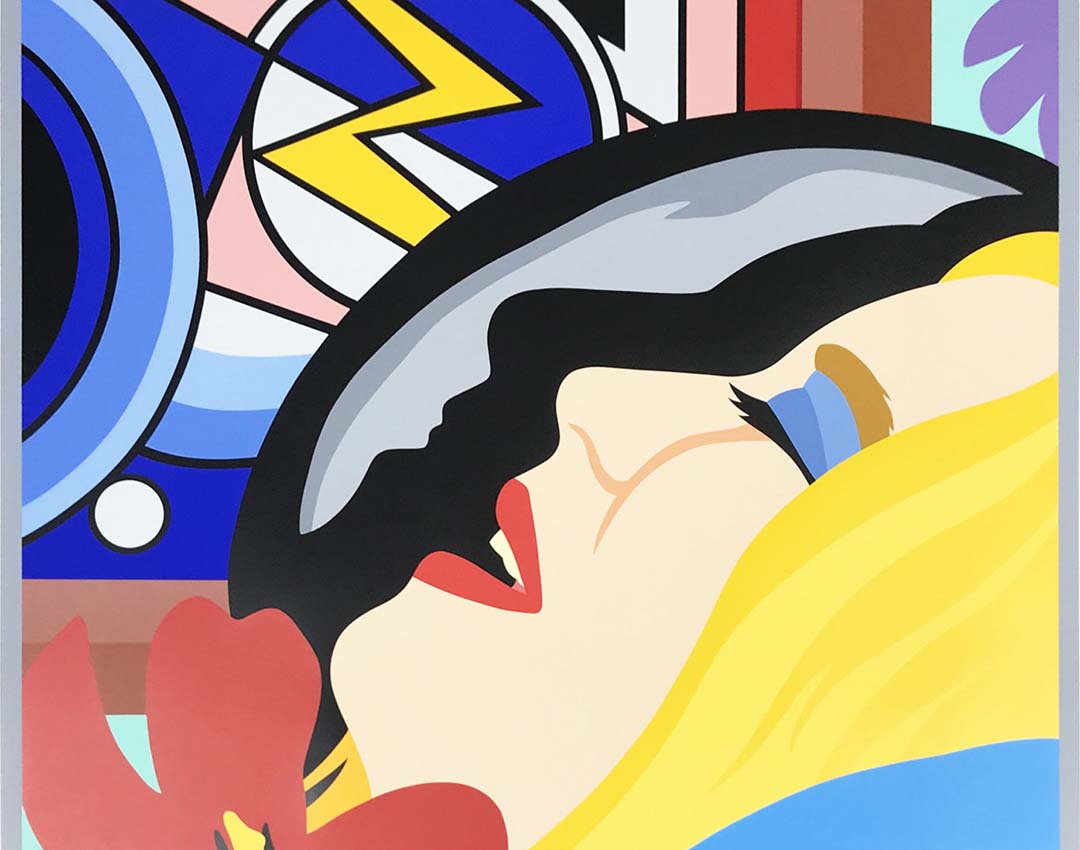 Tom Wesselmann – Bedroom Face with Lichtenstein
Tom Wesselmann was an influential American artist in the Pop Art movement. His work explored the relationship between art and consumer culture, often using advertising images and found objects as his medium. He was influenced by many artists during that period but he had to come up with his own artistic voice. His exploration of mediums from lithography, textiles, found objects to porcelain and metal gave him the opportunity to express himself in a wide range of materials.
Born in Cincinnati, Ohio, on February 23, 1931, he showed great interest in psychology in his early college days before being drafted. Fellow artists, Jim Dine and Roy Lichtenstein were also from the Buckeye State. Wesselmann got his start in art drawing cartoons while he was in the US Army. After his service, he was accepted at the prestigious Cooper Union in New York City where he began to experiment with different mediums. He initially sold cartoons to newspapers and magazines before eventually becoming recognized as a fine artist. He worked in bold lines and colors that led him to becoming interested in Pop Art after seeing Roy Lichtenstein's work. He soon found success with his own renditions of Americana motifs incorporating flags, advertising, still lifes and nudes.
In the 1960s, he attracted the attention of the art world by creating a series of "Great American Nude" paintings, depicting nude women using patriotic colors, stars and stripes and political imagery.
He also drew inspiration from the great master of color, flattened forms and nude figures, Henri Matisse.
"Matisse was just so incredibly good… He was the painter I most idolized."
As the renowned art curator Henry Geldzahler said: "About a year and a half ago I saw the works of Wesselmann…. Warhol, Rosenquist and Lichtenstein in their studios (it was more or less July 1961). They were working independently, unaware of each other, but drawing on a common source of imagination. In the space of a year and a half they put on exhibitions, created a movement and we are now here discussing the matter in a conference. This is instant history of art, a history of art that became so aware of itself as to make a leap that went beyond art itself' (H. Geldzahler, Arts Magazine. 1963).
Wesselmann never cared much for his incorporation in American Pop Art, "I dislike labels in general and 'Pop' in particular, especially because it overemphasizes the material used. There does seem to be a tendency to use similar materials and images, but the different ways they are used denies any kind of group intention" (interview with G. Swenson, ARTnews, 1964).
A Violent First Show.
After hearing about Wesselmann's collage work from Henry Geldzahler, artist Alex Katz visited his studio in NYC: "I went down to his studio and he had just started his "Great American Nude" series, which I thought were sensational. So I went to the Tanager Gallery, where I was a member, and they all thought it was terrific. We made him a member and he got a show. A lot of people disliked it and a lot of people were impressed. It was a violent first show. It was really quite terrific. And that was the beginning of Tom Wesselmann."
The Sidney Janis Gallery held the very important "New Realists" exhibition in November 1962, which included Wesselmann's work along with artwork by the great American artists Jim Dine, Robert Indiana, Roy Lichtenstein, Claes Oldenburg, James Rosenquist, George Segal, and Andy Warhol, thus placing him solidly amidst this legendary group.
The following decades saw the artist expand on these themes, creating abstract three-dimensional images that he described as "going back to what I had desperately been aiming for in 1959." He had indeed come full circle. He gained critical acclaim for his use of commercial imagery, color and assemblages using 3D objects including a radiator and working TVs. In 1980, making another unusual move, the monograph "Tom Wesselmann" was created – an autobiography written under the pseudonym Slim Stealingworth.
Never content to simply paint on canvas, Tom Wesselmann's exploration of different mediums is what made his artwork successful. He was able to take advantage of new technology and apply it to his own artistic voice. By working with different materials, he was able to create abstract three-dimensional images that defied traditional norms. He instigated and invested in the development of a laser-cutting application, which would allow him to make a faithful translation of his drawings in cutout metal. This method would become one of his signature techniques. Tom Wesselmann's work is still relevant today because it challenged audiences to think about art in a new way. His use of different mediums and technologies helped pioneer a new era of pop art.
Sadly, in 2004, Tom Wesselmann died of complications following surgery for a grave heart condition.
Tom Wesselmann was an important American artist who made significant contributions to the Pop Art movement. His exploration of different materials and mediums helped him create a unique body of work that continues to entertain and attract audiences today. He is in some of the greatest art collections in the world, including The Museum of Modem Art, the Norton Simon Museum, Guggenheim Abu Dhabi and Neue Galerie in Germany.
If you're a fan of Pop Art or Americana, then you're sure to appreciate the work of Tom Wesselmann. From his early days drawing cartoons in the Army to his later work in collage and sculpture, Wesselmann was always pushing boundaries and expanding his horizons. Whether you're a seasoned art collector or just beginning to build your collection, make sure to keep an eye out for works by this iconic artist.
---