The Enduring Popularity of Keith Haring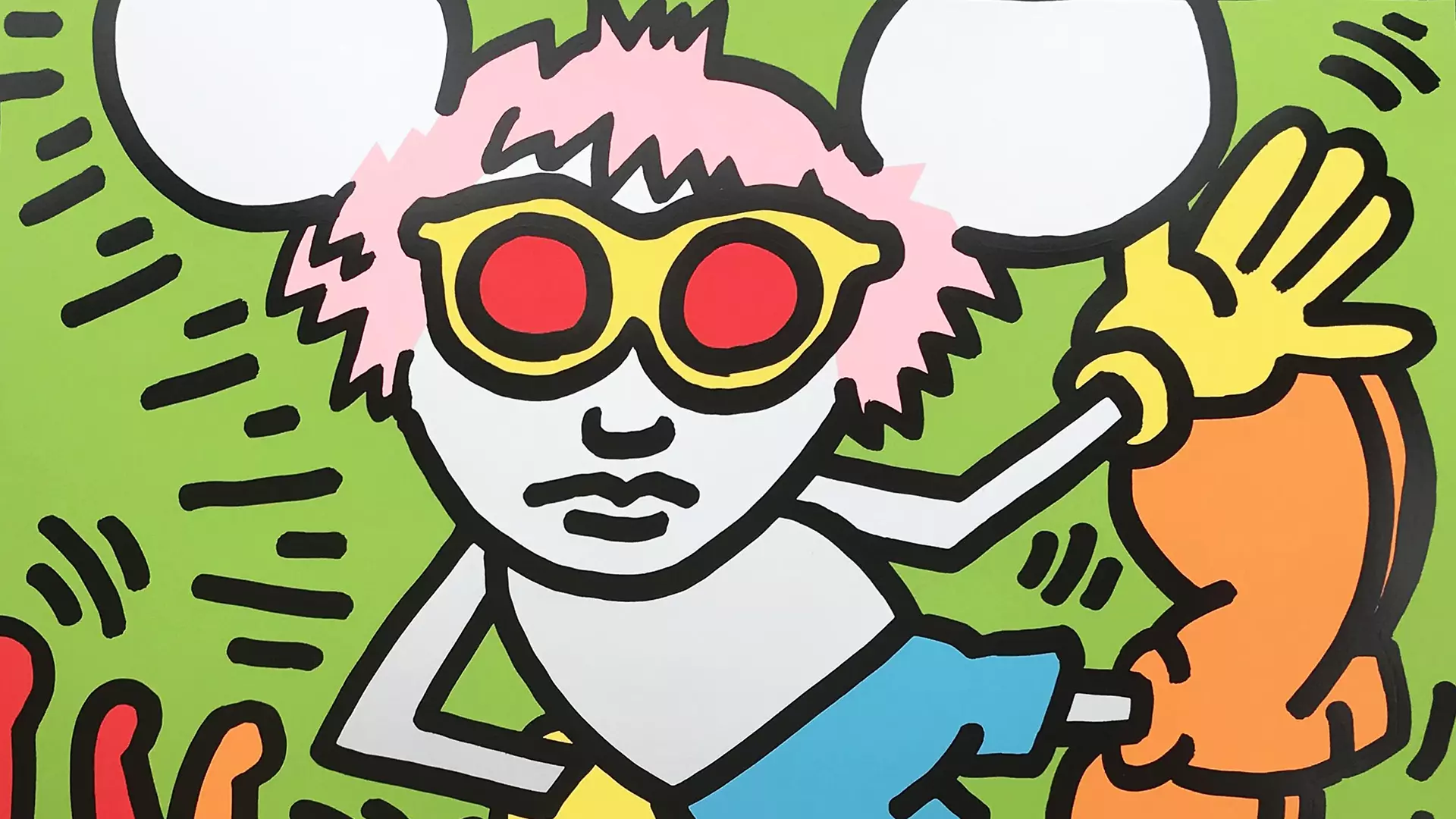 Artwork: Keith Haring – "Andy Mouse"
Keith Haring's vibrant works of art are some of the most popular pieces in the HOPA collection. His art continues to speak to our times — a mixture of the lighthearted with the heartfelt, like a fable that carries a deeper meaning.
Haring died in 1990, but more than 30 years later, he remains an important name in the world of art. In the time since he passed, his work has steadily increased in value and importance. It's now safe to say that he's become a permanent fixture in the art world landscape.
Haring's Visual Language
Art collectors love the vivid canvases and unique iconography of Haring's work. It's a style that began on the streets and subways of New York City.
It was the 1980's, and NYC street culture emerged as a rich cultural landscape yet to be explored by the mainstream art world. Haring developed his voice on the surfaces of the city. He collaborated with other street artists, like LA II (Angel Ortiz) and started to be featured in art galleries.
He began creating more works on canvas and even doing major commissions. From '82 to '89, he created over 50 public works. These pieces often celebrate love and the resilience of the human spirit.
Just like Haring's personal friend Jean-Michel Basquiat, his street-honed genius was recognized by none other than Andy Warhol. They built a close connection, with both artists creating work that featured the other. With the support of Warhol, Haring experienced a meteoric rise in popularity. His signature style became a touchstone of the era, influencing artists ever since.
Haring's circle of friends include some of the great names of the 80s: Madonna, James Rosenquist and Grace Jones, to name a few. This connection to the pulse of the culture helps explain his inspired ability to capture American society on canvas.
Haring's use of kinetic lines and brilliant color creates energy and movement in all his work. His paintings seem to animate themselves, like little short films of struggle and liberation. And he used his platform to create awareness around vital social issues, including the plight of child poverty, the need for AIDS research and the fight for LGBTQ+ rights.
Haring's Legacy
In 1990, Haring died from AIDS-related illness. He was only 31.
Today, his influence continues to grow. His life and work have been commemorated in countless retrospectives as an artist, activist and a trailblazer for the LGBTQ+ community.
The Keith Haring Foundation, established a year before his death, educates disadvantaged youths about HIV and AIDS. The foundation also supports public education through art.
If you are interested in the work of Keith Haring or other Blue Chip Pop and Contemporary artists, look through the Henry on Pop Art galleries today. When you find what you like, get in touch with Henry. He simplifies the art buying process, allowing you to focus on the art you love.
Own a piece of modern history — Learn How
---