The Brilliance + Bravado of Helen Frankenthaler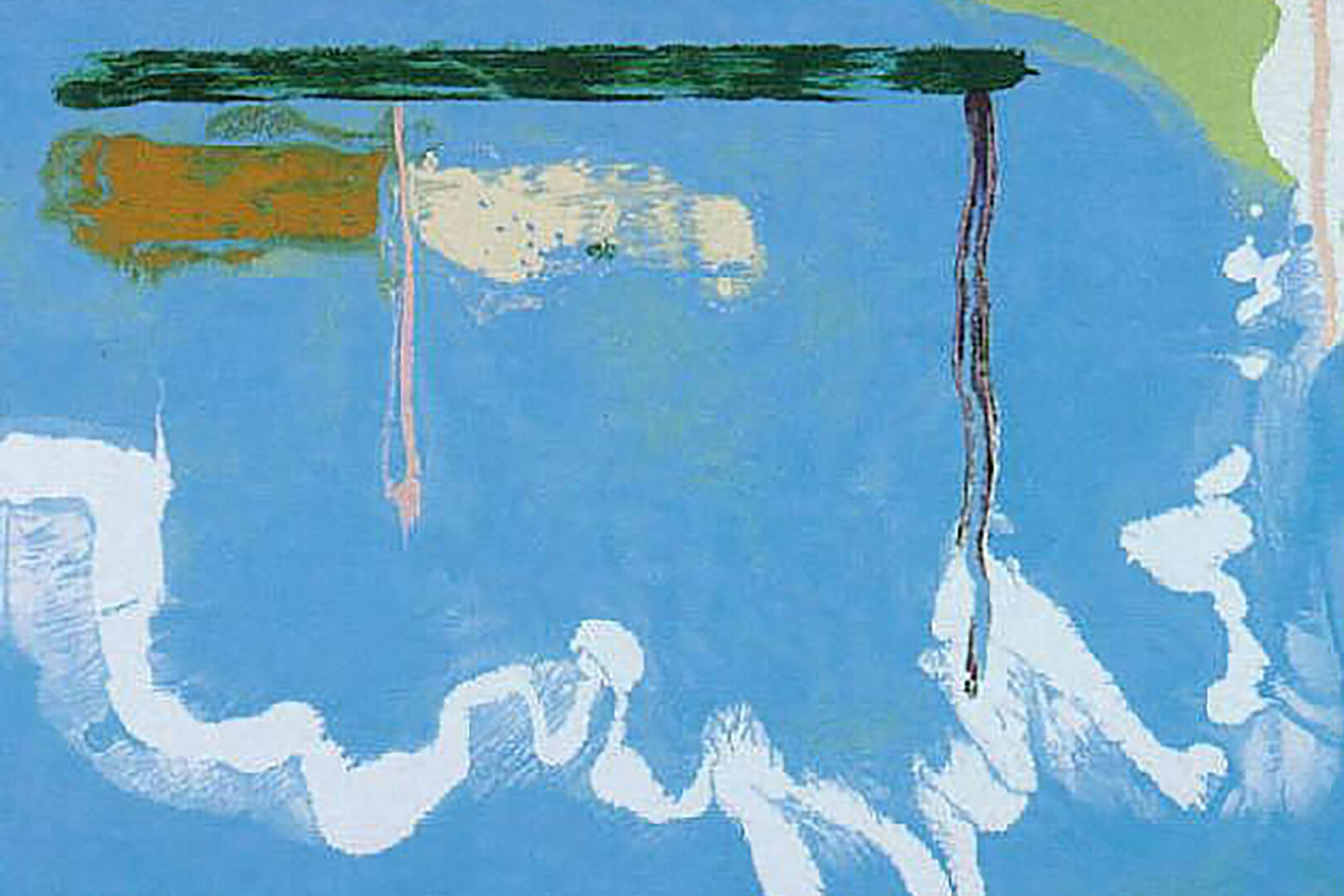 Helen Frankenthaler – Skywriting
"Technique determines aesthetic as much as one's aesthetic determines a new medium." — Helen Frankenthaler
Few artists have made as enormous a contribution to the development of abstract expressionism as Helen Frankenthaler. This icon of the post-war American scene stands as one of the most important voices of the 20th century, helping to birth a new visual language into the culture.
Her influence still makes an impact on contemporary art today, and while she was certainly well known during her career, the value of her work continues to rise. Her paintings, sculpture, printmaking, woodblocks and set design are treasured for their emotive use of color, subtlety of form and striking originality. And her attention to process and materials helped establish the archetype of the great abstract artist.
Early Life
Born in 1928 in New York City, the daughter of a New York State Supreme Court Justice, she experienced many advantages in her youth. And unlike many women of the time, her family encouraged all of their daughters to pursue interests and education in order to develop a career.
She attended classes at the prestigious Dalton School, under the learning tree of Mexican muralist Rufino Tamayo, and Vermont's Bennington College, studying with Paul Feeley. Feeley painted incredibly serene and defined abstract pieces, and he helped Frankenthaler explore this field.
After graduating, she continued her studies under Hans Hofmann who helped bring Abstract Expressionism into being. His mentorship played a critical role in the artist's development, honing her style.
These formative educational experiences helped the young Frankenthaler grasp the expressive power of color and the finer points of composition — features that would go on to define her work over the next six decades of her painting career.
In 1950, she returned to New York City to begin working. Only a year later, she had her first solo exhibition.
At 23, Frankenthaler finished Mountains and Sea (1952). This work of oil and charcoal premiered the technique that would become deeply connected to the artist: soak stain painting.
In this method, turpentine or kerosene was mixed into paints. This highly thinned paint would then be poured onto an unprimed canvas rolled out on the floor of her studio.
The resulting ephemeral shapes are stunning, with color that seems to be evaporating as you look at it. It is a fleeting sense of an image. Already at such a young age, the soon-to-be famous Helen Frankenthaler art style had appeared, and it would usher in a new wave of abstract art.
In 1958, she married fellow master Robert Motherwell — a young peer of the likes of Mark Rothko, Jackson Pollock and Willem de Kooning. Both Motherwell and Frankenthaler were people of means, and they became legendary in the artworld for their extravagant lifestyle. They traveled extensively and often their work and techniques cross-influenced each other. They divorced in 1971.
Helen Frankenthaler Paintings
Frankenthaler's new style immediately made waves in the New York scene. The artist seemed preternaturally gifted at understanding how colors relate, and how composition can reinforce and heighten these relationships. For that reason, she became a leading name in color field painting — a genre which features mostly large canvases with simple shapes and strong hues.
In the 60s, Helen Frankenthaler acrylic paintings became more and more common. They allowed for a definitive look that helped develop her distinctive style further. And by the 70s, she stopped using the soak stain technique altogether.
While previous abstract painters often worked in highly artificial and geometric forms, Frankenthaler preferred organic shapes. Works like Seeing the Moon on a Hot Summer Day (1987) show the ways that the artist was able to fully abstract from the natural world while still maintaining a true connection to it.
In this way, she made a major contribution to the world of abstract art. She broadened its vision and introduced a naturalism that remains relevant.
Helen Frankenthaler Prints
Though known mainly for her painting, her printmaking and woodblock work became important in their own right. She learned by studying at the Universal limited Art Editions lithographic workshop, committing fully to understanding the new medium.
Beginning in the early 60s, these would be a regular part of her output. Pieces like Essence Mulberry (1977) show her tremendous ability to explore through these new mediums.
Helen Frankenthaler Sculpture
In 1972, two decades after the exhibition of Mountains and Sea, Frankenthaler experimented with her first sculptures. These works of welded steel were in part inspired by the work of the artist's friend David Smith.
As she did when learning printmaking, Frankenthaler threw herself into the process of learning the new form, taking a trip to sculptor Anthony Caro's studio to train.
These works, like Matisse Table (1972) are inventive and intuitive. While they never became a dominant part of her career, they are compelling additions — showing the vision of Frankenthaler rendered in three dimensions.
The Legacy of a Visionary
Frankenthaler died in 2011, leaving behind a large body of work that remains deeply haunting and affecting.
While she brought us many masterpieces, she also gave back to the community of artists, teaching at prestigious schools like Harvard, NYU, Princeton and Yale. She also established the Helen Frankenthaler Foundation, endowed by the artist herself, which promotes public understanding and interest in the visual arts.
In her life, she exhibited around the world, becoming a major name. But since her death, the artist's profile has continued to rise (along with prices her works realize at auction). As time goes on, the full importance of this legendary artist continues to evolve and reach new heights.
---