Genius + Style – David Hockney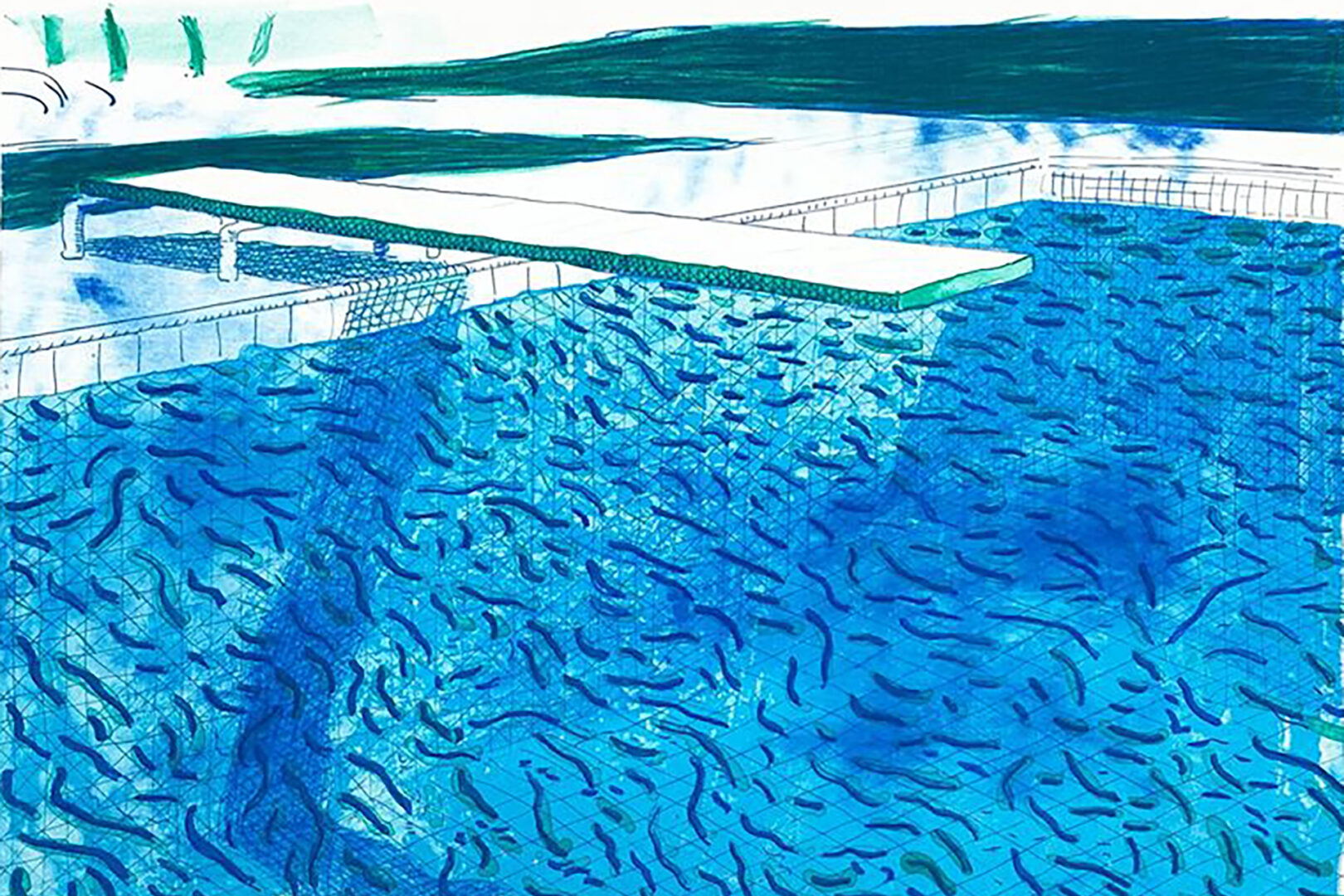 David Hockney – Lithograph of Water Made of Thick and Thin Lines, A Green Wash, A Light Blue Wash, and A Dark Blue Wash
"If you see the world as beautiful, thrilling and mysterious, as I think I do, then you feel quite alive." — David Hockney
David Hockney has defined and redefined the artistic landscape in the many decades of his career. He is noted as perhaps the most important and influential British artist of the 20th century. But well into the 21st, as always drawn to mystery; creatively and scientifically exploring many different mediums and techniques, both ancient and cutting edge, Hockney continues to experiment in the studio — giving us work that inspires and rethinks art as we know it.
Unlike many of his contemporaries, Hockney's oeuvre includes a vast range of subject matter and styles. Not suited to sticking to one track, the periods of his work involve different landscapes, approaches and ideas. To see all the areas he has explored reinvigorates our belief in the power of the human imagination and the role art has to play in baring the soul of our species.
His curiosity has led to breakthroughs of our understanding of art history, and his remarkable accomplishments in the studio have continuously rejuvenated the scene.
The brilliant, stylish Hockney is included in some of the world's greatest art collections, won countless awards and titles, and in 2018, his legendary painting, 'Portrait of an Artist (Pool with Two Figures),' broke auction records at $90 million making it the most expensive painting sold by a living artist at the time.
Early Life
Hockney, as one might expect, was born to parents who encouraged his creativity and early interest in art. He attended Bradford College of Art (along with such Pop art notables as Pauline Boty and Derek Boshier) and later the Royal College of Art in London.
It was there that Hockney showed work in the group exhibition Young Contemporaries. This was a seminal moment in British Pop art. Hockney's early work was so forceful, and as he was already making a name for himself, the Royal College of Art changed its requirements to allow him to graduate after he refused to write an essay. It appears Hockney was already daring and confident in his own abilities.
Much of his early work is dark and brooding, with many critics thinking this may have been due to his gloomy outlook. At the time, homosexuality was illegal in the UK. Hockney, a gay man, rebelled against this oppression, and many of his paintings from this time borrow stylistically from the likes of Francis Bacon — an artist known for his works of horror and dread. Hockney's "Myself and My Heroes" (1961) thematically echoes these haunting paintings.
In 1964, the artist relocated to Los Angeles, California. And it is there that Hockney's pool paintings began — to this day one of his most beloved series. These stark but jewel-toned images of LA's pools highlight the iconic America as only an Englishman could see it. His 1967 effort "A Bigger Splash" remains one of the most iconic images of the mid-century. LA made such an impact on the artist that Hockney set up his studio there.
Hockney's Portraits
Throughout his career, Hockney has routinely painted portraits, and double portraits in particular. He's also no stranger to self-portraits, completing more than 300.
These works usually capture friends, colleagues, lovers and relatives as they really were. But the simplicity and directness gives them a deeply personal quality.
Hockney's Landscapes
Hockney's pools might make you think that he was limited to a minimalist Pop style, but the artist is also known for his lush landscapes. Often depicting the Yorkshire setting where he grew up and returned to often to visit his mother, these paintings began in 1997 when he was already in his early 60s.
These paintings capture a vision of his surroundings so unlike his pool paintings. These are verdant and idyllic, though not given to sentimentality. These paintings, made en plein air with oils and watercolors, include the stunning "Bigger Trees Near Warter or/ou Peinture sur le Motif pour le Nouvel Âge Post-Photographique" (2007).
The Hockney-Falco Thesis
In the 90s, artist David Hockney and physicist Charles M. Falco began studying how the Old Masters leapt forward in their understanding of perspective during and after the Renaissance. Falco, an expert in optics, helped Hockney study certain optical devices available at the time — including curved mirrors, the camera obscura and the camera lucida.
If these devices were used by artists to better see their subjects, it was hypothesized that the resulting paintings would contain certain errors from the distortion of the lenses. The two claim to have found the expected errors in some works by Old Masters from the early Renaissance.
Hockney published his book "Secret Knowledge: Rediscovering the Lost Techniques of the Old Masters" in 2001, detailing their study, evidence and argument. This controversial thesis is still hotly debated.
Further Experiments
Hockney has never been one to rest on his laurels. He's experimented in many different mediums, printmaking, photo collage and currently during lockdown, he created a gorgeous, narrative fresco…an 80 meter landscape series of iPad drawings, "A Year in Normandy."
After his work on Secret Knowledge, he began to experiment with using a camera lucida himself. He's created brilliant set designs as a stage designer for the likes of the Royal Court Theatre and the Metropolitan Opera House.
He has also taken aim at traditional perspective, with recent photography/drawing/painting-based work actually inverting the vanishing point — ever the rebel, even in his later years.
Hockney's expansive career and spectacular achievements are not over. At 84, he continues to create and explore, interrogating the world through art and questioning the assumptions of art itself.
---