Robert Longo – Hyperrealist Extraordinaire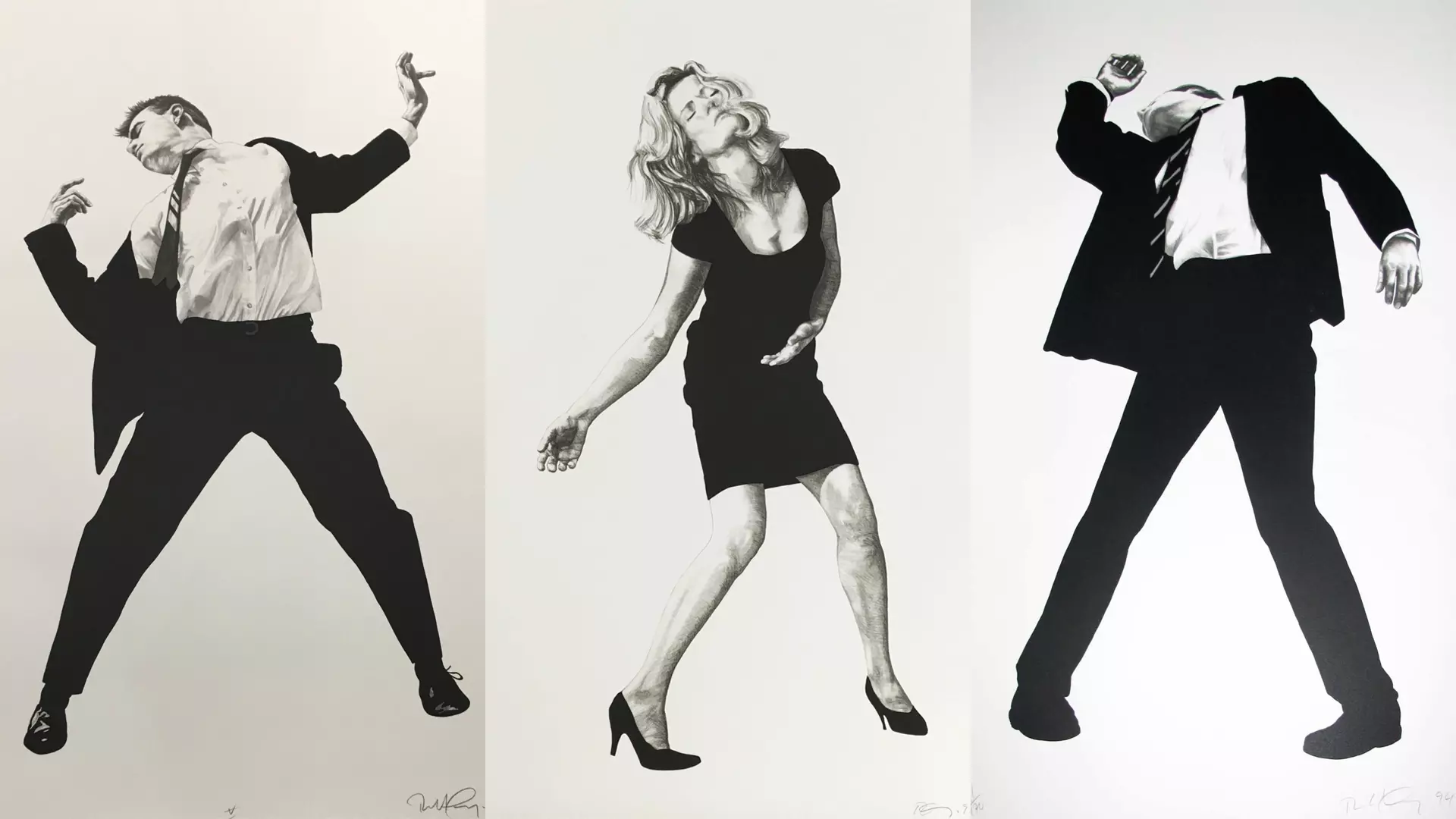 Robert Longo – "Men in the Cities"
Robert Longo (born on January 7th, 1953) came of age during the Vietnam War, a time when a few important photographs dramatically changed the American zeitgeist forever.
In particular, Longo was influenced by the provocative photo of Kent State protesters being shot. Longo was a friend of a fallen protestor featured in the most famous photos from the time.
This one event, and the power of the photograph to capture it and transmit it around the world, helped define the artist's relationship to his world and his own creative medium.
As an artist, his work is inherently political, driving at the profound social confrontations going on at any moment. It's part of what gives his pieces the urgency and high stakes that have defined his body of work.
The Early Career of Robert Longo
Longo decided to pursue art while in college. As someone with dyslexia, he relied on a sports scholarship to attend. But he discovered his voice and sense of purpose in art class.
He bounced around to different institutions, beginning at University of North Texas but eventually finding his way to Buffalo State College. There, he met Cindy Sherman who would go on to become a notable collaborator of Longo's and one of the most celebrated artists of the 20th century in her own right.
In fact, it was Longo who pushed Sherman to record her notorious outfits that she created for parties. The photographs she made of those outfits went on to become the "Untitled Film Stills" series.
Longo, Sherman and their group of budding artists helped open the Hallwalls Contemporary Art Center in a converted ice factory in Buffalo. It was there that Longo met with artists from New York City, and they convinced him to relocate to the metropolis.
In New York City, Longo found a thriving art scene, and he took full advantage of the opportunity. He fronted an experimental punk band called Robert Longo's Menthol Wars, and he exhibited his work as much as he could.
It is in this exciting atmosphere that he launched the series that would change his career, and the contemporary art world, forever.
Men in the Cities Series
While not primarily a photographer, Longo's hyperrealist drawings use photography as a basis. And this process led him to what remains one of his most important accomplishments: "Men in the Cities." In this series, Longo took photographs of his friends in contorted positions. His models bent over, twisted their bodies and flailed their arms.
One of the models was none other than Cindy Sherman. "Robert shot us in free fall, looking like we were dead," Sherman recalled in 2009. "A feeling of force and energy emanates from these photographs. Now I see their choreographic aspect. I see youthful optimism. Creating these poses became a sort of dance, and I think that's why I remember having such a good time."
Longo used a projector to blow up these images into three-quarter scale, with some going beyond life-size. He and an assistant drew the projected images in painstaking detail.
He drew his models in business suits and dresses, making them up like yuppies on the way to their jobs on Wall Street.
The end effect is dramatic. One cannot quite make out if the figures are lost in a shamanic trance, dancing to a rhythm or suffering a gunshot.
By the '80s, Longo created more than 60 images in the series. The magnitude of the project and the charisma of the images won "Men in the Cities" a place as one of the most influential series in contemporary art.
Robert Longo's Artistic Process
Longo's work relies on graphite and charcoal, almost always with a photograph as the basis. For much of his career, he used these mediums to recreate found images. He scoured newspapers and magazines, looking for those special photographs that grabbed his attention and said something that needed saying.
In the studio, he uses these found images as springboards into his own expression. It's a unique form of pop art, in a way. These are sketches from our visual culture, able to comment on the media and the society that drinks in a flood of images every day.
By stopping to reframe an image, Longo helps us slow down our digestion of these pictures. His work gives us the space to take a breath and think about what our eyes take in.
This slowing down begins in his creative process. As the artist renders images in such exquisite detail, he takes time and care when selecting what to create. The work he produces encourages us to be more conscious with what we consume with our eyes. What do we spend our time looking at? Could we make different choices about what we see?
Robert Longo's Career Outside of the Studio
One of the most appealing parts of Longo's career is his bravery in exploring new fields. He's directed film and television, including an episode of "Tales from the Crypt" and the cult-classic cyberpunk movie "Johnny Mnemonic," as well as the short "Arena Brains."
Longo even directed iconic music videos, like Megadeth's "Peace Sells" and R.E.M.'s "The One I Love," among others. He also produced performance art theatre and experimented in photography.
Looking over his entire output, it is clear that Longo's artistic insatiability is a part of everything he does. Never one to stay in place, he continues to explore the boundaries of his abilities. It's given him a wide impact in today's culture, one that we are lucky for.
The Rise of Robert Longo's Popularity
Longo is experiencing a new rise in popularity. After a few widely published retrospectives, art buyers are reassessing Longo's place in contemporary art. In 2018, his gravely spectacular "Death Star" installation was created from approximately 40K inert bullets.
Longo's wild freedom and serious eye make his work a must have for many collectors of contemporary and pop art.
If you love the black and white graphite masterpieces from Longo, consider buying a print for yourself.
Henry on Pop Art can help you find the best contemporary art available. His expertise in Blue Chip Contemporary and Pop Art makes buying art enjoyable and rewarding. That's the benefit of having a custom art advisory service working for you.
Own a piece of modern history – Learn How
---