Who's On Your Wall?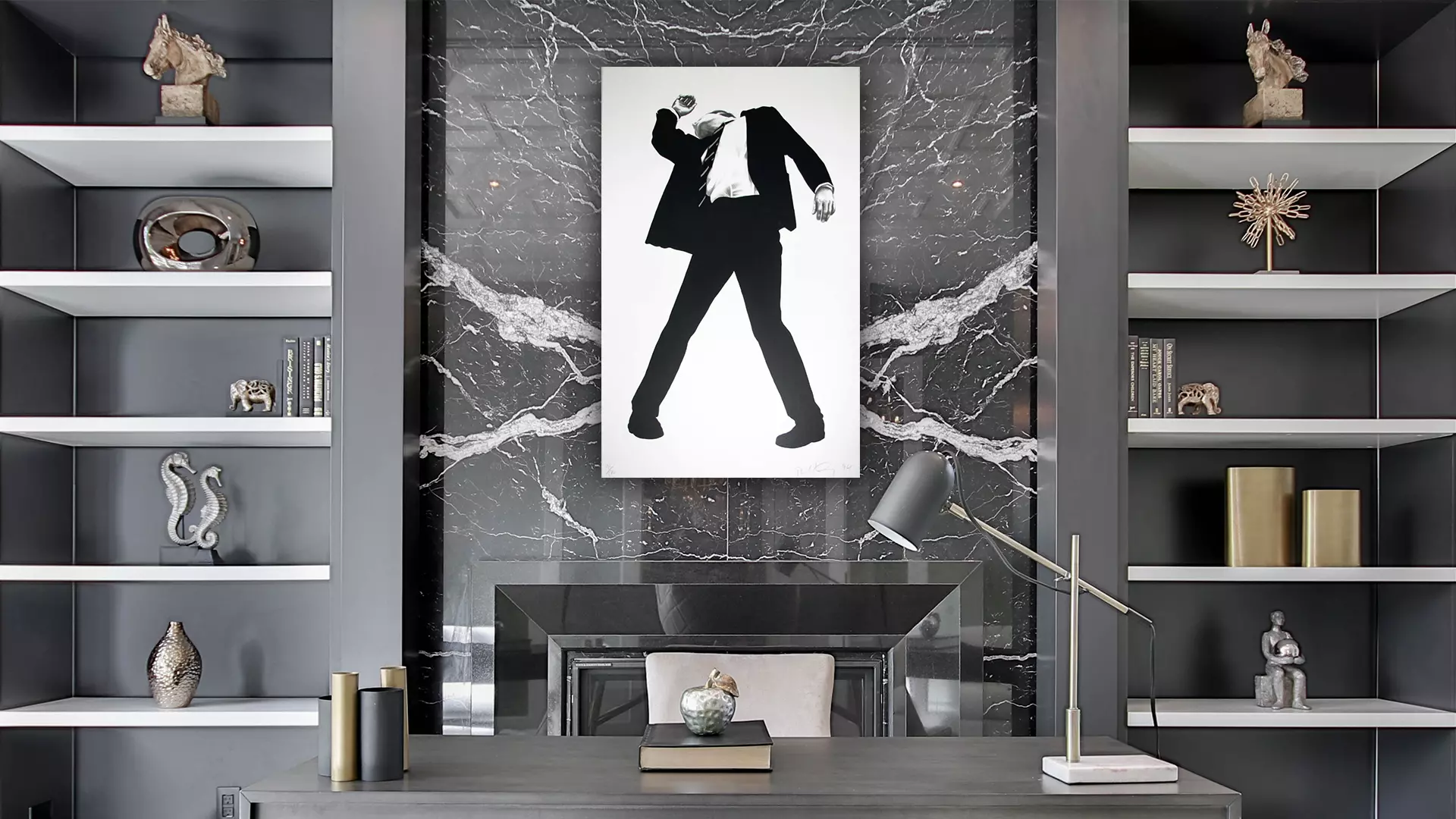 Robert Longo – "Men in the Cities"
Warhol? Basquiat? Banksy? Mr. Brainwash?
The art on your walls says a lot about your personality. Like the fashion you wear or the car you drive, your art is a form of self-expression. Art is power. You can transform the experience of a space by hanging a single, sublime image. Suddenly, focus is pulled. Gravity is affected. The literal energy in the room is transmuted by its presence.
When you walk into a living room and see a large Roy Lichtenstein, you get a sense of the person living there. Sophisticated but playful, educated yet down to earth…with an appreciation for that swirl of mid-century pop culture and good taste.
Let's say you walk into an office. You might notice the work on people's desks, the company logo on the wall. But what does the art say? Their Damien Hirst paintings say as much about the company as their mission statement. They pride themselves on creativity, daring and impact.
If you take the time to really look at the art a person or organization commits to their walls, you can see the world through their eyes.
So then, the question turns to you. Who's on your wall? What does it say about you? After all, the collection you curate creates a portrait of who you are. Even a single work of art can change a room, turn you into someone capable of things you never knew you could do.
So ask yourself: what do you want to say with your art? What do you want people to say about you? Who do you want to be?
Art that Expresses Your Values
Everyone brings something different to the table. That means everyone should have something different on their walls. With the right guidance, you can find that memorable piece of art that matches you perfectly. And a great place to start is with your values.
Let's say you're the kind of person who takes things head-on. You aren't afraid of a little controversy, especially if it allows you to speak your mind. You bring passion to everything you do, and you never compromise on your principles.
Artists like Banksy and Mr. Brainwash speak to this. They are controversial. They wear their convictions on their sleeve. They take stands, and through their wit and talent, they craft the perfect message. Their work shows the thought-provoking trickster at play in the lively color and adaptation of corporate imagery.
Or, let's say you are a cooler head. An informed person who brings valuable insight, but you aren't always leading the conversation. You lean back, take things in, wait for the right time. You follow your perception, which rarely lets you down.
The cerebral work of Ed Ruscha might be the perfect fit for your walls. His serene compositions and use of words take time to understand. You have to sit with these paintings awhile and let them do their intrinsic work.
Art that Inspires the Best in You
The suit makes the person — or so it is said. Sometimes we wear clothes to express how we want to be seen and how we want to be. In other words, sometimes we pick based on our aspirations. Art can work the same way. The right artwork can call us to be better versions of ourselves. It can bring out the workhorse, the optimist or the hero in us. You can transform the energy of a space by hanging the perfect work of art.
If you are starting a business, one of the best ways to get off on the right foot is to surround yourself with the right inspiration.
So imagine a start-up. They have talent, but they're the underdogs in their industry. What they lack in capital and name recognition, they make up for in grit and agility as a team. This company might look into putting up fine art prints of Jean-Michel Basquiat.
Basquiat's own story runs from graffiti artist to the toast of Manhattan. His brilliance carried him to places no one could have predicted. And instead of shunning his origins, he used all the skills he learned tagging the streets to craft masterpieces on the canvas.
Basquiat's expressive use of line and color matches that of the fearless start-up. His work inspires looking at things differently, lateral problem solving, and powerful intuition.
Getting Your Walls to Speak
How to Find Art that Says "You." Henry on Pop Art helps focus your search and finds pieces at great prices — all while sparing you stuffy, academic explanations.
As a premier art advisor, Henry Koelsch finds unique Blue Chip Pop and Contemporary Art for his clients. A major part of this process focuses on who the client is. What can the art on their walls say about them?
This process focuses on both the values of the buyer and their aspirations.
If you are looking to get the most out of fine art for sale, you'll likely want some help. It's important to find the right piece, and you'll want to know you got it for the best price.
That's where a great art advisor comes in. Henry on Pop Art as a service connects collectors with Pop and Contemporary Art. Henry finds original artworks and exhibition quality, limited edition prints that express your values and constantly inspire you.
Whether you are buying art for the home or office, Henry can demystify and simplify the entire process.
Consult the expert — Ask Henry
---