Activist + Artist – Shepard Fairey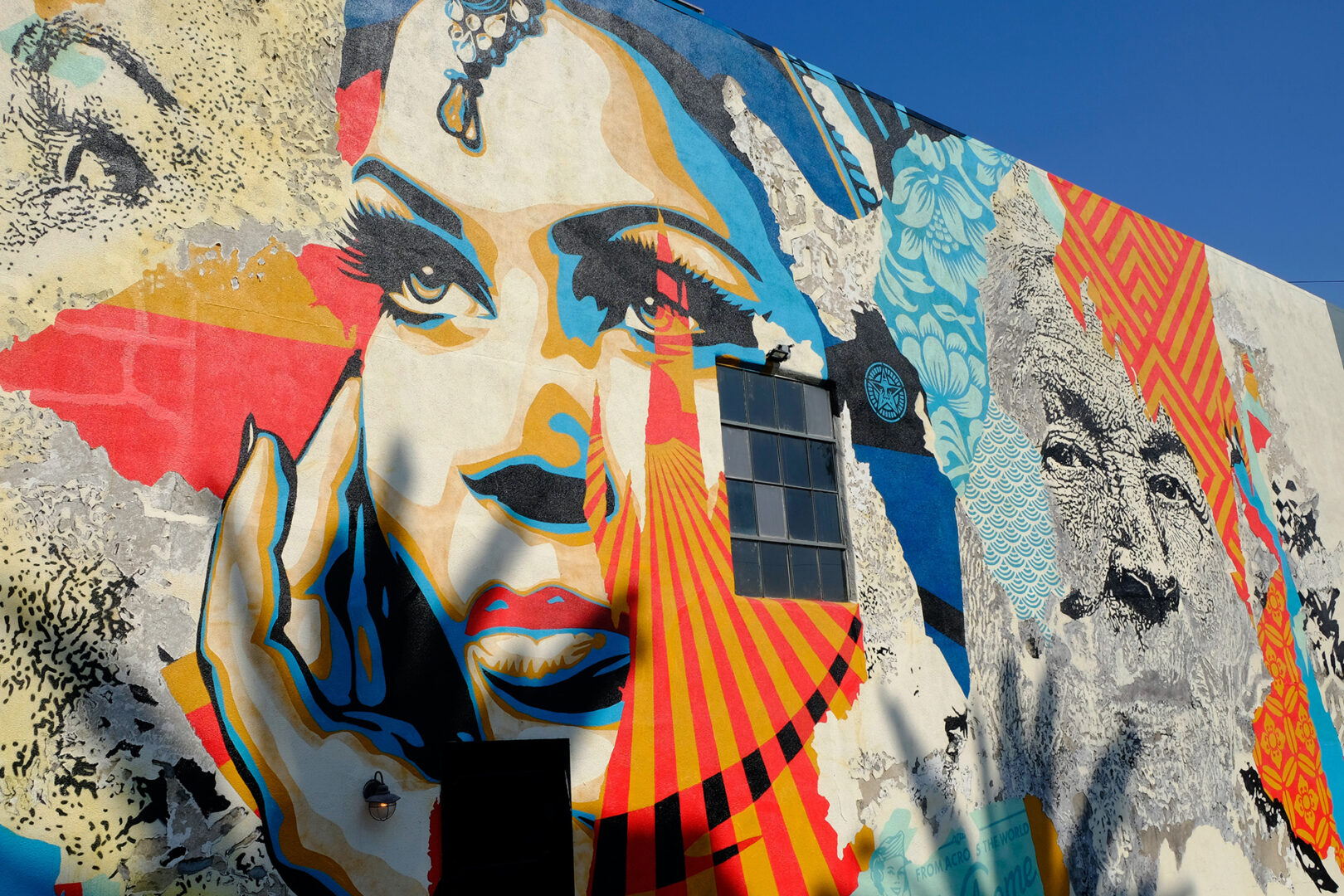 Los Angeles Mural – Shepard Fairey
"Art has power… I'm interested in using art to raise awareness for the important political and social issues of our time. Power has many forms and is embraced or feared depending on who that power benefits, who it oppresses, who it uplifts, and who wields it."
— Shepard Fairey
Street artists are a different breed. They are made up of rebels — a group of creative spirits that counter society's mores in the very act of making their art. When we think of these artists, we see them slipping through city streets at night, evading the police and leaving their mark. They are, in a sense, revolutionaries. And one of the leaders of this guerrilla cadre for the past 30 years is the infamous Shepard Fairey.
With outspoken political beliefs, an incredibly successful career as a graphic designer and the creator of the (seemingly ubiquitous) OBEY GIANT — Fairey has cemented his legacy as one of the 21st century's most important and controversial artists.
Early Life and the Genesis of OBEY
Fairey was raised in Charleston, South Carolina, moving to California in high school to attend the Idyllwild Arts Academy. Already, the young artist created shirts and skateboards for friends, honing a sharp eye for graphic design that resonated with a new generation.
After high school, Fairey enrolled in the prestigious Rhode Island School of Design (RISD). During those college years, he came up with an idea for a sticker, dubbed "André the Giant Has a Posse." In the middle sat what would become the most well known street art motif in the world: the OBEY GIANT.
The sticker had everything that has become indicative of Fairey's work. It fused design concepts from totalitarian propaganda, mysterious origins, photographic elements, provocative yet hard-to-read meaning with the punk ethos of "democratizing art."
Over the course of the following decades, OBEY GIANT appeared in sticker and stencil form across cities around the world. Spawning a legion of copycats, it still crops up in unexpected alleyways and subway cars. Currently, the icon is often starring in the world of mainstream fashion with its appearance in men's and women's collections, thanks to Fairey's own popular OBEY clothing line.
Alternate Graphics and BLK/MARKT Inc.
Still a student, Fairey established Alternate Graphics — a design firm focusing on silkscreen printing. Soon, he collaborated with Dave Kinsey and Philip DeWolff on BLK/MARKT Inc. This new venture produced intriguing marketing campaigns that presaged later developments in alternate reality games and viral marketing.
These professional experiences opened up Fairey to a world of graphic design, allowing him to leave his mark on the wider culture in a way few street artists could ever dream of. He designed Barack Obama's iconic "Hope" poster for the 2008 presidential campaign. He made album covers for the Smashing Pumpkins, Anthrax and other massively popular bands. He was commissioned for a large public mural in South Africa in honor of Nelson Mandela. He even created a cover for an issue of Time Magazine.
Mr. Brainwash
While Fairey is best known for his art, his antics have also become the stuff of legend.
Mr. Brainwash is another prominent street artist and contemporary of Shepard Fairey — or is he an elaborate hoax dreamed up by Fairey and fellow artworld bad boy Banksy?
In the cult 2010 film Exit Through the Gift Shop (directed by Banksy), Thierry Guetta was introduced to the world as Mr. Brainwash. With that auspicious debut, the artist sold work for five-figure price tags, bolstered by public support from Fairey.
And yet, critics can't help but notice that Mr. Brainwash's work looks awfully reminiscent of Banksy. Rumors began to spread that the two most popular street artists of our time had created a new popular street artist out of thin air.
The "scandal" only helped cement Fairey's position as a provocateur and experimenter, an artist with no conceptual limits.
Political Commitments
"I think it is important for artists to have courage and speak their minds… I think we all, not just artists, should use the tools we have to push things in a more just direction." Shepard Fairey
True to the themes of many of his most popular pieces, Fairey is a committed activist, and he's used his cache as a celebrity artist to raise money for many causes.
Working with Feeding America and the Advertising Council, he's designed advertisements that seek to inform and engage people about the underreported crisis of hunger in the United States. In a similar fashion, he's helped out many organizations that support young artists, the homeless and LGBTQIA equality.
Fairey raised money for the Zapatista Army of National Liberation (EZLN), an indigenous community in Chiapas, Mexico that runs a large territory along libertarian socialist principles. He even smuggled one of his prints into Zapatista territory to give as a gift to Subcomandante Marcos.
Most recently, he dropped a series of non-fungible tokens (NFTs) called "Obey Ideal Power." A portion of the sales will be donated to Amnesty International.
Fairey's Legacy
The unforgettable Shepard Fairey style blends the striking modernist verve of early Soviet poster design, cutting social commentary and a sense of humor. If these sound like familiar territory for our visual culture, it is only because Fairey's output has been so influential.
There are very few artists whose work has been seen by almost everyone. But between Obama's "Hope" poster and the OBEY GIANT, one could assume that this is the case with Fairey. Beginning in the illicit world of street art and rising to become the leading voice in design and a major name in the world of fine art, Fairey's success as an artist is impossible to overstate.
He has never shied from controversy, and he has pursued every avenue to get his work to the masses. In that way, while he's been embraced by mainstream culture and the art world, he's never really left his street artist roots. It's the world that's changed, not him.
---