Ellsworth Kelly – Master Colorist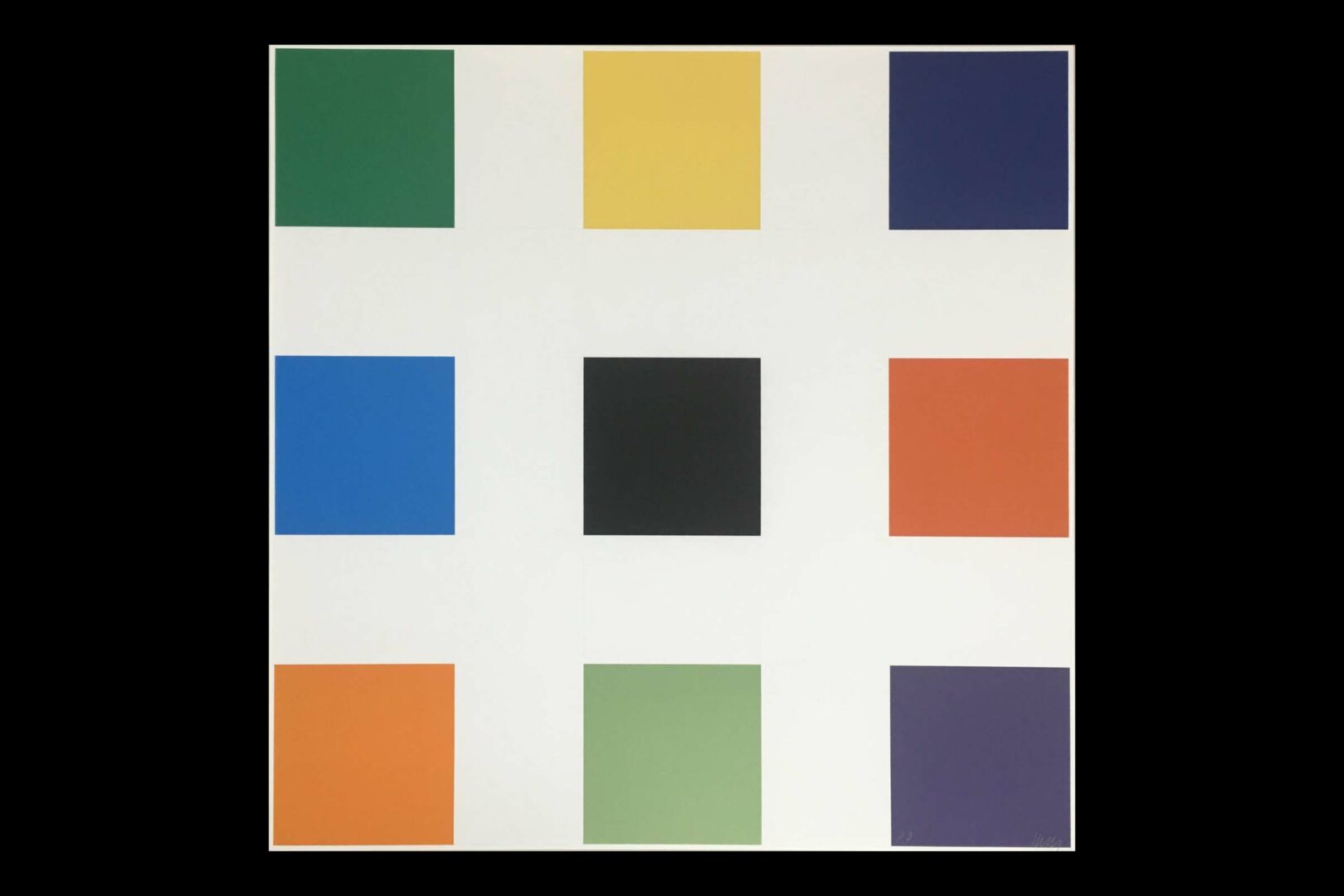 Ellsworth Kelly – Nine Squares
"In a sense, what I've tried to capture is the reality of flux, to keep art an open, incomplete situation, to get at the rapture of seeing." – Ellsworth Kelly
When anyone speaks of legendary artist Ellsworth Kelly, they speak of Color. Painter, sculptor and printmaker extraordinaire, Ellsworth Kelly became one of the most important figures in postwar American art.
He was born in New York in 1923. When he was very young, his mother and grandmother got him interested in ornithology and later, this early fascination with the brilliant colors of birds would influence his choice of colors in his art. Kelly later studied painting at the Pratt Institute before serving in WWII for a very unusual battalion. Ellsworth and many other artists and designers worked for a deception unit called the Ghost Army where they created inflatable war vehicles to mislead the enemy about Allied troop activities.
Returning to the US, Kelly studied at the School of the Museum of Fine Arts, Boston, before once again heading overseas. From 1948-1954, he lived in France after the war and began painting abstractions. He attended the Beaux-Arts de Paris and immersed himself in the many artistic influences around him, encountering such historic artists and their work as Picasso, Jean Arp, Alexander Calder, Joan Miro and Alberto Giacometti. He was deeply influenced by Claude Monet. Kelly visited Monet's studio in Giverny, "I first went to see Claude Monet's house and garden at Giverny when I was living nearby in 1948…The house was quite a mess then; it was inhabited by pigeons and some of the final paintings were stacked against each other…I went back to see what they [the paintings] looked like close up—you couldn't really see them hanging on the walls of museums—and they were just as fresh as they could be, those late water lilies."
Kelly was unaware of what was going on with the Abstract Expressionists in the US at that time; his evolution as an artist came from his own experience and inner vision. He was introduced to the technique of automatic drawing, drawing images on paper without looking at them…freeing up his technique and ability to view things in many different ways and mediums, eventually creating his signature hard-edged, Color Field, abstract works. His work deeply explores the fascinating dynamics of form, color, line, and space.
Artist Power Couple
In 1956, Ellsworth Kelly walked into an art supply store in NYC where he met Robert Indiana…the attraction was immediate. Indiana later stated his "painting life began with Ellsworth…before [him] I was aesthetically at sea. With Ellsworth, my whole life perspective changed. All of a sudden, I was in the twentieth century." Deeply influenced by the brilliant art of his partner, vivid colors infused both their work. Their relationship began to fall apart as the purist abstractionist, Kelly, deplored using text and Indiana found his own artistic voice in its impactful usage.
Heartbroken, deeper messages of love resonated through Indiana's very particular choices of color in his iconic LOVE artwork with the exact shades used in one of Ellsworth's most well-known paintings, Green Blue Red.
The Romance of France
Ellsworth had always been drawn to France throughout his life. He would return to Belle-Île, specifically to the sites depicted in Monet's paintings from nearly 120 years earlier, evidence of the deep connection he felt to both France and Monet throughout his life. In an interview conducted shortly before his death, Kelly reflected on this connection, saying: "I think I romanticized France because I didn't know it….You know how you fall in love with somebody you don't really know? It remains always attractive because it has that mystery."
One of Ellsworth's greatest signature art achievements was his shaped canvases, relief work that often stacked on top or alongside each other to create mesmerizing, dimensional effects. His legacy is a remarkable body of work including powerful paintings, sculptures, postcard collages, plant lithographs and more…
In Collections all over the world
Kelly's work is highly prized by collectors and can be found in major museums and private collections around the world. He was very particular about where his works went, with priority being museums and trusted private collectors. In 2007, one of his paintings sold for over $5 million at auction, setting a new record for the artist. His work is often associated with Pop Art thanks to its vivid colors and bold geometric shapes. However, Kelly always resisted being pigeonholed into any one artistic category. His art has been exhibited at the Centre Georges Pompidou, Art Institute of Chicago, the San Francisco Museum of Modern Art, New York City's Whitney Museum of American Art and Museum of Modern Art, and the Guggenheim Museum, among others.
The Ellsworth Kelly Foundation
Kelly's beloved husband, photographer and collector Jack Shear, who for the last 32 years lived and worked with the artist after meeting him in Los Angeles, manages the Ellsworth Kelly Foundation which was established to preserve the artist's legacy and support future generations of artists. The foundation operates out of a converted barn on Kelly's property in Spencertown, New York, where Ellsworth lived and worked for nearly 50 years. The structure houses Kelly's studio, meticulously maintained as the artist left it, as well as a library, archives, and meeting space for artists and scholars.
Ellsworth Kelly was a groundbreaking artist who left a lasting mark on the American art scene. His bold use of color and shapes helped define an important period in postwar art history. Kelly died in 2015, but his work continues to be celebrated by collectors and art lovers around the world. Today, his work is highly so