Robert Indiana – Pop Art Rebel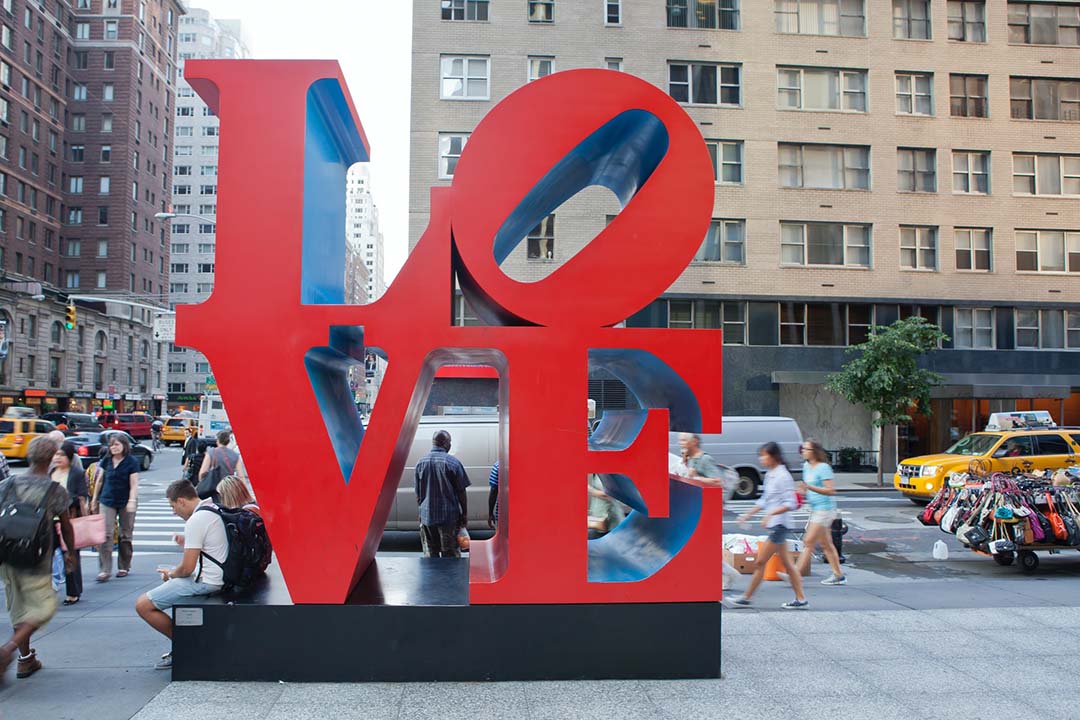 Robert Indiana – LOVE
"Pop art is the American Dream, optimistic, generous, and naive!" ~ Robert Indiana
Robert Indiana was an American artist associated with the Pop Art movement. Born Robert Clark in New Castle, Indiana in 1928, his adopted family relocated to Indianapolis, where he graduated from Arsenal Technical High School as valedictorian. He spent three years in the U.S. Air Force and then studied at the Art Institute of Chicago, the renowned Skowhegan School of Painting and Sculpture in Maine, as well as Edinburgh University and Edinburgh College of Art before settling in New York City in 1954. He met his partner and mentor, the celebrated, hard-edge abstract painter, Ellsworth Kelly. Deeply influenced by Kelly's clean-cut, color combinations, he began making art with distinctive imagery drawing on commercial art approaches blended with existentialism, that gradually moved toward what Indiana calls "word paintings" – his most famous example being the LOVE series begun in 1965. The red, green and blue painting featuring 4 letters paired and stacked, punctuated by the brilliant, tilted 'O' was chosen by the Museum of Modern Art for their 1965 Christmas card and the rest is history. Indiana's works are bold and energetic. His best known examples include short words like EAT, DIE, HUG, ERR, HOPE, AMOR and LOVE which he used to create a body of work that appears inviting in tone, with its playful presence inspired by roadside signage or other public spaces.
"Robert Indiana has made of basic American iconography the most subtle and evocative resonance of color his time has seen. He has used the figure of language and number to echo endlessly the paradigms of human emotions and made LOVE an international sign of transcendent power. He is the most deftly Emersonian of our painters, the consummate signer of our human declaration." ~ Robert Creeley, poet and collaborator
Robert Indiana burst onto the art scene in the 1960s with his signature pop art style. His bold, vibrant paintings, assemblage art and sculptures quickly won him critical acclaim and a loyal following. His career soared after influential museum director and art historian Alfred H. Barr, Jr bought The American Dream, l for the Museum of Modern Art. Despite his success, Indiana was always a rebel at heart, pushing the boundaries of traditional art forms and challenging authority. Exploring the power of language and color, Robert Indiana, remains one of the most iconic American artists of the 20th century. Best known for his work with Pop Art, he created pieces that were both visually striking and thought-provoking.
Fully immersed in the New York Art scene, he briefly shared his studio with the phenomenal painter, Cy Twombly and continued to engage and collaborate with his fellow artists. In 1963, the legendary Andy Warhol created a 45-minute underground film called "Eat" starring Robert Indiana. Filmed at Indiana's studio without sound, it features Robert eating a mushroom for the entire duration of the film with a brief cameo of a cat. Ever creative, artist Robert Indiana was also a theatrical set and costume designer for The Santa Fe Opera's 1976 production of Virgil Thomson's The Mother Of Us All, based on the life and achievements of suffragist Susan B. Anthony, with a libretto by Gertrude Stein.
Mystery and Isolation
Haunted by rampant plagiarism and increasingly reclusive, the artist had retired to the remote island of Vinalhaven, Maine, only accessible by ferry, as there is no connecting bridge to this day. The afternoon before he died, a lawsuit was filed over claims that his caretaker had isolated him from family and friends. The suit accused the individual of selling unauthorized reproductions of Indiana's art. The cause of death remains ruled inconclusive by the medical examiner.
The art market loves Robert Indiana. Indiana's 12-foot LOVE sculpture – one in an edition of three identical pieces – sold for $4.1 million in May 2011. The Whitney Museum of American Art hosted a prestigious 2013 retrospective for the first time in New York titled "Beyond LOVE." The high profile event helped re-introduce him to audiences across the world who might not have been familiar with his work, evoking the following review: "Beyond LOVE is a spectacular exhibition and an important opportunity to rediscover the whole career of a singular figure in American art." ~BBC
"Some people like to paint trees. I like to paint love. I find it more meaningful than painting trees." ~ Robert Indiana
Though his death remains a mystery, from sculptures, to paintings, to postage stamps and prints, Robert Indiana's powerful, vibrant art continues to dot the landscapes of our collective psyche on a global level.
---