Donald Sultan – Master of Mediums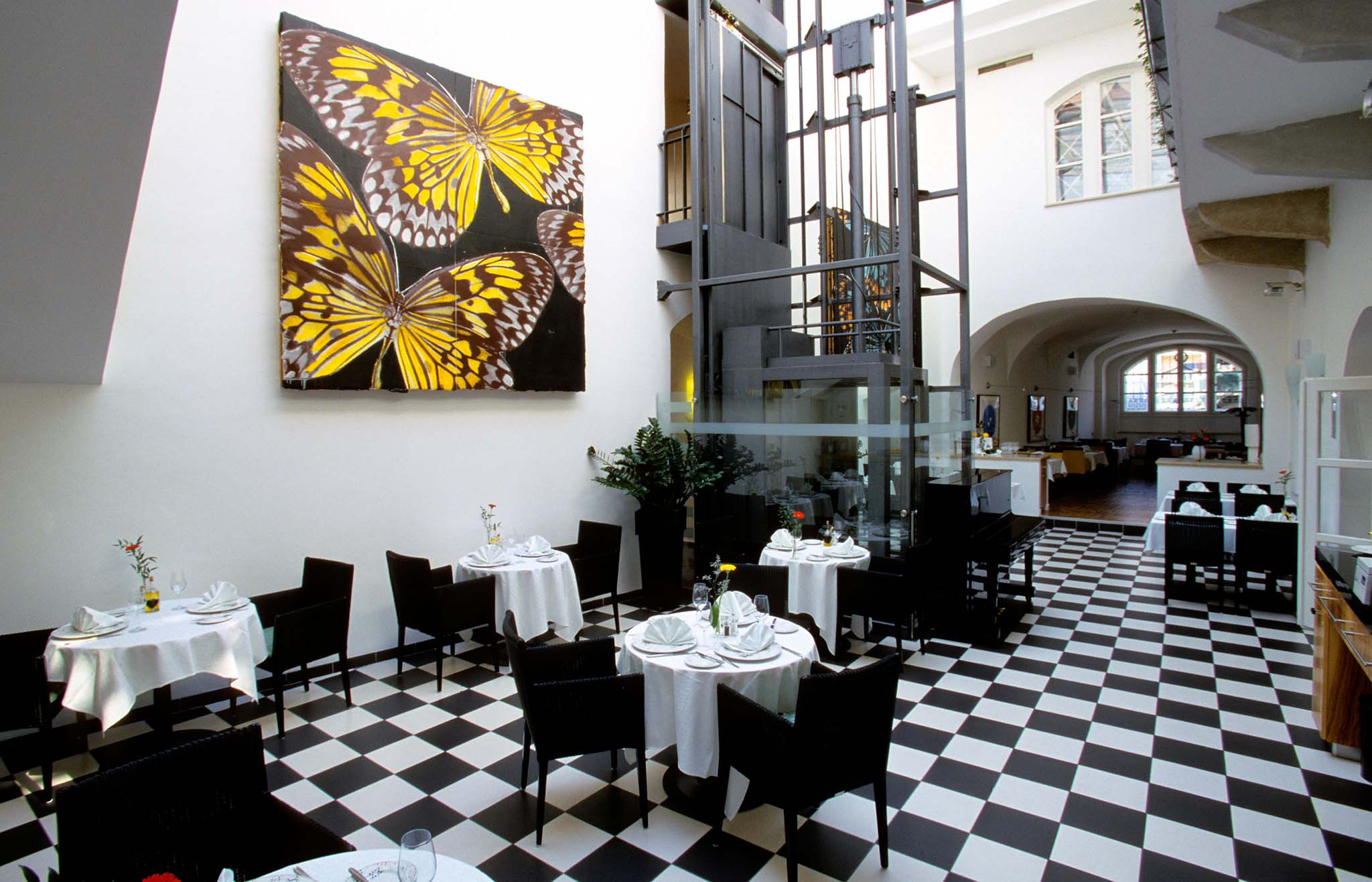 Hungary, Budapest, Art'otel, hotel designed by artist Donald Sultan, restaurant
"My father was a physical person…I just felt most comfortable making things and moving things. Part of the whole American experience I came out of was the empire building mentality… physical labor. My grandfather was on the assembly lines of Detroit in the Depression. It was the way it was." – Donald Sultan
The legendary Studio 54's late co-founder Steve Rubell astutely remarked in 1985, "…artists [were] becoming the stars of the 1980s, like the rock stars of the 1960s or the fashion designers of the 1970s," and artist Donald Sultan was fully riding this wave as his works were in high demand and commanding high prices.
Today, we explore the many different aspects of Donald Sultan and how his unique perspective has captured the imagination of art lovers around the world.
Born in 1951 in Asheville, North Carolina, Donald Sultan grew up with parents who loved the arts. His father, owner of a tire company, loved to create abstract paintings in his free time and his mother loved theater. Donald acted in theater, then found he loved creating and painting sets. Art and construction were in his nature. He soon received his MFA from the Art Institute of Chicago, where he began to experiment with industrial tools and mediums and non-traditional painting techniques.
Known as part of the "New Image" movement, and a principal contemporary artist who came into recognition in the 1970s, Donald Sultan dives deep into such contrasts as light vs. darkness, grace vs. brutality, actuality vs. abstraction, and organic vs. synthetic in his work.
He is also well known for his prints and sculptures, which embrace the same motifs as his paintings. He is a master of multiple mediums, from painting, etching, silkscreen, woodcut, lithography and sculpture among other art techniques and non-traditional industrial media such as plaster, spackle, tar, Masonite, vinyl floor tiles, latex, rubber, PVC and metals.
According to the British art historian and author Ian Dunlop, Sultan's paintings, "fall into two groups: the first group consists of bold, brightly colored pictures with well-defined shapes and crisp outlines forming a clear silhouette; the second group consists of dark, hard to read pictures full of menace and often inspired by disastrous industrial events such as warehouse fires, airplane crashes, and freight train derailments. In both cases the pictures make a strong, immediate visual statement."
Donald Sultan has used his artistic vision in many different mediums. In 1998, Sultan was commissioned to create an Absolut Vodka iconic art ad campaign. Beginning in the early 1980s, Andy Warhol had created Absolut's first commissioned artwork starring the famous bottle, attracting many other noted artists who have participated in this renowned ad campaign, including Keith Haring, Louise Bourgeois, Ed Ruscha and many more. Sultan's impactful ad is a screen print of pimiento-stuffed green olives, superimposed dead center by a black and white aquatint image of the Absolut bottle. In 2003, Donald Sultan planned a new perfume for Neiman Marcus. Called "Turpentine" and featuring striking, elegant packaging, he described the scent as "it smells like plein air painting on a sunny day."
Art'otel Budapest Donald Sultan
An unusual project appeared in 1999. Sultan was invited to Budapest, Hungary to create a permanent exhibition of his art in various media at a fabulous new hotel the following year. Eponymously named Art'otel Budapest Donald Sultan, the artist was commissioned to design the hotel experience from the color palette, fountains, wall motifs, guest bathrobes, carpeting, as well as the hotel's dishes and matchboxes, featuring art from his moody "Smoke Rings" series. "I thought everybody should have a sculpture in their room," Sultan remembers, "and playful red carpeting with a needle-and-thread motif that supposedly hearkens back to Hungary's history as a tapestry-making capital."
Per the hotel's official website, Donald Sultan's "art is displayed in every hotel room at Art'otel Budapest… and the hotel is exhibiting an unprecedented collection of his works in a museum-like permanent exhibition, offering guests the unique opportunity to submerge themselves into Sultan's work and to rediscover painting with him." The fabulous, historic hotel is "furnished with Sultan's original works. In the hotel's 165 rooms and suites, as well as in the hallways, guests will find 579 works, offering a comprehensive overview of Sultan's oeuvre."
Still Lifes & More…
The artist has spent the past 20 years focusing on still-lifes and the motifs of poppies, lemons, freesias, trumpet flowers, mimosas, butterflies, dominos, dice, playing cards and tulips. His more dramatic works are the "Smoke Rings," depicting evanescent rings of white smoke that seem to float on their rich black backgrounds, and his breathtaking, cinematic, industrial landscapes featuring catastrophes, "The Disaster Paintings," that capture the fragile balance between structure and chaos.
Sultan has exhibited in London, Paris, Rome, New York, Chicago, Tokyo, Barcelona and Berlin, among other cities. Sultan's work is in the collections of the Centre Georges Pompidou, Paris; the Metropolitan Museum of Art, New York; Art Institute of Chicago, the Museum of Modern Art, the Tate Modern, the Guggenheim Museum, the Whitney Museum of American Art, and the Museum of Contemporary Art, Tokyo and more.
Donald Sultan is one of those rare artists who is respected by critics and art lovers alike. His focus on exploration—of materials, techniques, perspectives—has resulted in a body of work that is both strikingly beautiful and intriguingly complex. Whether you're a passionate art collector or someone who just appreciates a powerful image when you see one, there's no denying that Donald Sultan is an artist whose vision is worth beholding again and again.
---