Life is Beautiful for Mr. Brainwash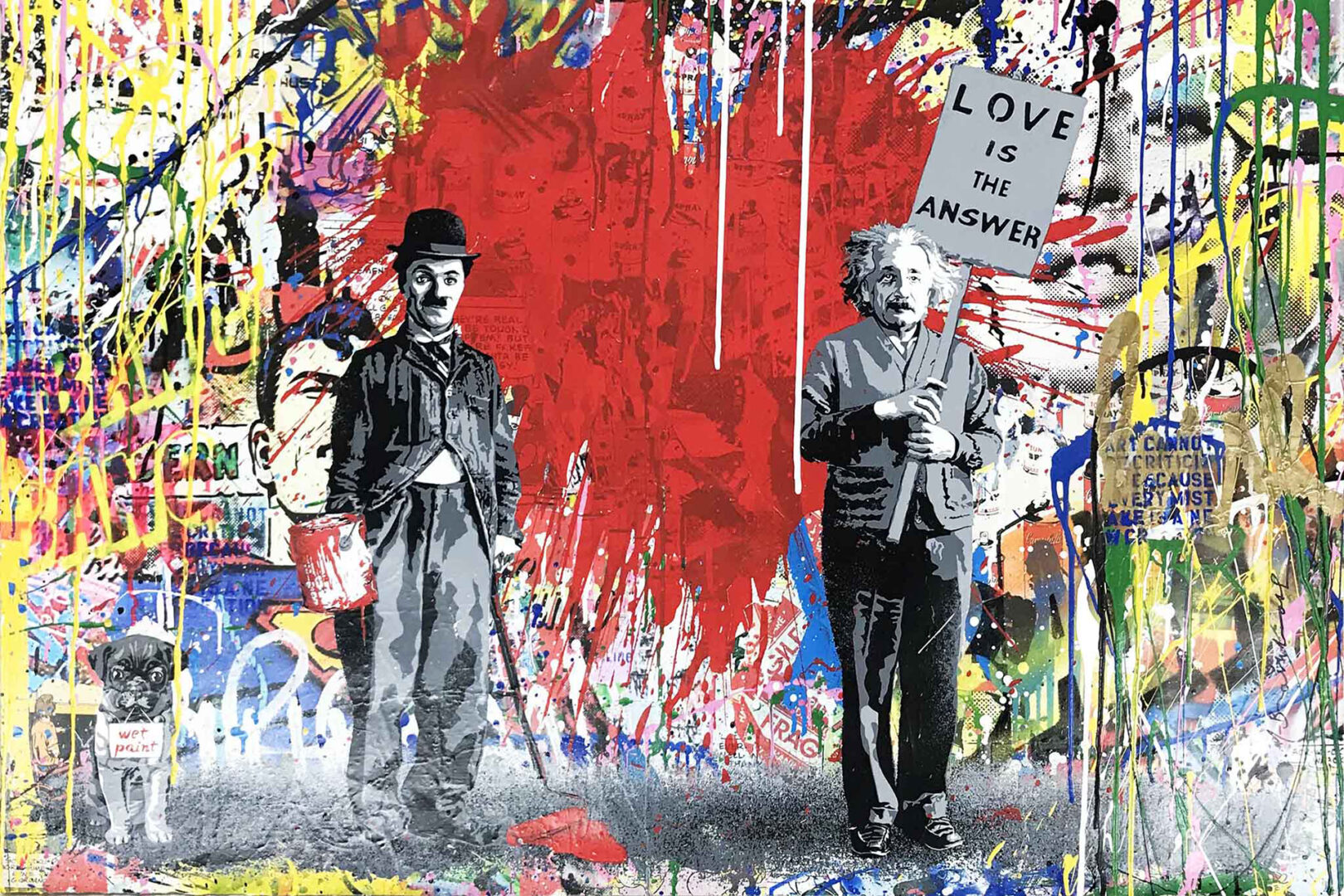 Mr. Brainwash – Juxtapose
"I'm just following my heart. I even sign my name with a little heart. I'm not here to judge myself, or to judge anybody. What I want to do is to give love, and bring positive messages." – Mr. Brainwash
Mr. Brainwash creates art that merges stencils, graffiti styles and a wry sense of humor into his own style. While the rumor mill continues to whisper about just who exactly it is really making these works of art, these concerns fall away when you actually see his pieces. 
His pop-graffiti sensibility relishes in street bravado and color. He borrows the faces of mid-century celebrities and re-envisions them, setting their familiar faces in a psychedelic kaleidoscope of visual references. 
He is also known for setting up some of the best art parties. To ring in the 2012 Summer Olympic Games in London, Mr. Brainwash opened a massive show in the giant Old Sorting Office in London's West End. There, he constructed a 20-foot-tall Kate Moss to greet visitors, a six-story-tall tribute to Queen Elizabeth II — wearing her coronation attire and spray painting "God Save the People" — among other works. The event was DJ'd by none other than EDM legend David Guetta. With these kinds of high-profile events and impactful works, it's no wonder why he rapidly became one of the top names in street art. 
The mystery of Mr. Brainwash's real identity continues to grow, just as the artwork continues to rise in prominence. It is all bound up in the same strange, fascinating story of the artist.
The Origins of MBW
By all official accounts, Mr. Brainwash is Thierry Guetta — a videographer and former used clothing store owner turned art world darling. 
The story of Guetta, a French immigrant in Los Angeles, begins while he was the owner of a vintage clothing store. Interested in his surroundings, he took a video camera with him everywhere, capturing the often bizarre world of LA street life. 
He began following and filming street artists — most notably, Banksy and Shepard Fairey. He fell in love with what they were doing. The danger and political edge appealed to Guetta's sense of adventure and desire for self-expression. So he broke in through the side door, teaming up with them to build his career. 
n 2008, his first exhibition "Life is Beautiful" opened with great success. It appeared on the cover of "LA Weekly" and attracted more than 50,000 visitors in total. The art on display included a full-scale recreation of Edward Hopper's "Nighthawks," an enormous robot and a pyramid built out of tens of thousands of books. 
In no uncertain terms, "Life is Beautiful" achieved enormous exposure for the new artist. 
These events were covered in the film "Exit through the Gift Shop" — which premiered at the Sundance Film Festival in 2010 and was nominated for the Academy Award for Best Documentary Feature. 
But rather than putting to rest the rumors of Mr. Brainwash's true identity, the film generated more controversy. Many of the details appear too perfect for real life, and many claimed that the entire Mr. Brainwash persona was an intricate fabrication by Banksy and Shepard Fairey. Many even claimed that the artwork is by Banksy. 
And yet, despite ongoing doubts as to the reality of Mr. Brainwash, he continues to release vibrant artwork and put out major collaborations.
Street Art Takes Center Stage
Mr. Brainwash is part of a generation of street artists who are rewriting the rules of the art world. And they are finding a lot of success as they do so. Big names like Banksy, Shepard Fairey, KAWS, Invader and Mr. Brainwash are proving to be very attractive to young collectors and tech entrepreneurs. As millennials become a larger and larger share of the art market, these names will no doubt continue to climb. 
This long-term trend makes Mr. Brainwash an important name in the art market, and he continues to grow his profile with worldwide solo exhibitions and frequent exploits at Art Basel — including a 2013 show with large paintings, sculpture and a three-story version of "Mona Lisa" with a mohawk. 
And the artist is intent on engaging the public and bringing art back into the conversation whenever he can. He crisscrosses the globe to give talks and seminars, including addresses at UCLA, Columbia University and Semi Permanent, Australia's largest creative conference. 
His crossover work with musicians, fashion designers and even Mercedes-Benz highlights the artist's broad appeal, despite his often confrontational style. His works of pop-graffiti are now so widespread that one wonders just how subversive he can continue to be.
The Charitable Side of MBW
Mr. Brainwash's passion doesn't stop with art. He is committed to giving back to the community. He regularly donates artwork in support of the Los Angeles LGBT center, created commemorative 9/11 murals to honor the victims of the attack, and partnered with Project (RED) to raise AIDS awareness and raise money to end mother-to-child HIV transmission.
Mr. Brainwash also lends his yearly support to organizations such as The Prince's Trust, a charity for the benefit of vulnerable youth. He also unveiled a series of murals with former First Lady Michelle Obama in support of her organization "Let Girls Learn" which helps adolescent girls attend and graduate school.
Buying a Work by MBW for Yourself
If you enjoy the colorful retro-pop and graffiti-inspired artworks of Mr. Brainwash, be sure to check out the works available in our MBW gallery.
Henry on Pop Art can help you find the best collectible art available. His expertise in Blue Chip Contemporary and Pop Art makes the art buying experience fun and easy…a beautiful benefit of having a custom art advisory service working for you. 
Own a piece of modern history – Learn How
---